I would like to say that you were very thorough with the whole process and was sure to note anything that I may have had questions for. I appreciated you guiding me through all of it being a first time home buyer and made me feel comfortable with all of it. It was a great experience overall. Thanks again! Kenny Oct 2021
It is with pleasure that I write and thank you for the diligent and professional attention to detail, you brought to the recent sale of my house, and be assured you are my 'go to' person in any Real Estate endeavor or question I may have in the future. Patrick Aug.2021
Tammy went above and beyond for us in finding our home. There is not one detail ever missed with her. We felt very well informed and in the loop ALWAYS. Although with the market being the way it is right now we were nervous that the perfect home would never come up for us. Tammy pulled out all the stops and made everything impossible, possible. We are now home owners of our future dream/forever home. 10/10 I would recommend Tammy time and time again. If you're looking for a realtor that truly cares about their clients and their needs. Tammy is the one. She is with you every step of the way and always has your back. Book with Tammy today she has the power to move mountains and get that home sweet home for you. Pritannia & Colin August 2021
 Tammy went above and beyond in finding a forever home for my daughter and her family who are transferring back to Calgary from Edmonton. Tammy was extremely patient with the demands and choices as they were forever changing but along the way, she took careful note of the details/wish list and used this to find a home that they never imagined would happen as the market wasn't fitting their long list of demands. Tammy is not just a realtor, she's a friend who is clearly passionate about meeting the needs of her clients and capturing their vision of what "home" looks like for each individual. She approached this process in a complete unbiased and non- judgmental way and found the perfect home for our wee Edmonton family! Thank you from the bottom of our hearts Tammy for every step you took to ensure a smooth transition for our daughter and her family. Colleen & Reio August 2021
 We were extremely pleased with the level of service and commitment when purchasing our home with Tammy.  We found her showing homes via Realtor.ca MLS locally in the area we were interested in purchasing. We met her and went with our gut feeling because she looked like a trust worthy business person. She made herself available to look at 3 properties and we found the perfect home together on the first day of showing. She made the negotiation process work and felt like we got a good deal. We used one of her referred mortgage broker and lawyer and everything worked out smoothly.  She even set us up with a key to the garage so we could move our stuff into the garage a couple weeks prior to possession. We would definitely recommend Tammy to anyone who is looking to buy and sell a home. Thank you Tammy!  Timothy August 2021
We can't recommend Tammy enough. Out of the 6 realtors we have used in our lifetime she is the shining star. She was so thorough, made sure she knew exactly what we wanted.  She communicated with us every step of the way. We never had to wonder what was going on with our sale. She went over and above getting documentation for our condo and preparing us for what we needed to have in order when the sale went through. She has an incredible attention to detail, case in point, she noticed an error in the unit factors on our condo land title that had gone unnoticed by anyone since the error was made in the 80's!!). On a personal level (and really most importantly), she is a very sweet and thoughtful human being, which made the experience that much better. Dawn & Jeff April 2021
If you are reading this, please, seriously, look no further and go with Tammy, ESPECIALLY if you are a first time homebuyer. Tammy will genuinely and wholeheartedly look out for YOUR best interests and never make you feel like she is just hoping for you to "choose something" and make a sale. We looked at about 20 different houses and she would always point out things I never would have thought of to make sure that I am fully aware of possible downsides. This whole process would have been LEAPS more stressful without her. She would think of everything that I would never think of and went above and beyond her "realtor duties" to make sure I was happy with my new home. I don't think I have ever received this level of dedication, commitment, patience, attentiveness, communication, responsiveness and knowledge from anyone I have ever dealt with. Ever. From the bottom of my heart, thank you Tammy. And from the bottom of Sophie's heart, thank you for the Minnie Mouse, she absolutely adores it.  Svetlana February 2021
If you're reading this and looking for a fantastic realtor, today is your lucky day. I'm a professional home inspector with 2020mhi and today I was hired to perform an inspection for a wonderful first time home buyer with Tammy Power as their realtor. My initial conversation with Tammy immediately left me with no doubt that she is well versed with the condo and home buying purchasing process. Tammy knew precisely what her clients needed from a home inspection in order to make them comfortable with their purchase. I personally interact with multiple realtors daily and have never witnessed them actually fixing deficiencies within the home as Tammy did today with a stubborn closet door. Needless to say, myself, my assistant, and Tammy's client were thoroughly impressed. Tammy showed no hesitation at how committed she was to look after her client and their best interests. It was a pleasure to be part of this smooth process that she helped orchestrate so well. I would highly recommend Tammy Power for your real estate needs! Gary January 2021
Tammy helped us sell our Uncles condo. She was very knowledgeable, professional & pleasant to work with. Her attention to detail was outstanding & she kept us informed every step of the way. She went above & beyond to get the listing out to potential buyers. Thanks Tammy!!! Jackie & Ervie October 2020
The amount of support time and care Tammy put into the sale of our first home was remarkable. I couldn't and wouldn't think about entrusting this to anyone else. I can't say enough good things about the whole process from beginning to end, she was there to help us threw with everything big and small making it easy on us and taking the stress away. Thank you again Tammy.  Diana & Cody April 2020
Selecting a Realtor to help me sell my home was a very important decision for me and Tammy is the Realtor for you. She was very professional, knowledgeable and made my journey seamless. Jeff April 2020
If you're looking for a real estate agent you can trust then stop right here! Tammy has your best interest at heart and will work hard to get the job done for you. We flew into Calgary recently to view some homes for sale. With absolutely no advance notice Tammy dropped everything and spent 2 or three days tirelessly running around the city with us, then researching perspective properties at night to get ready for the next day.  Her attitude, service, and personality are second to none, and you could tell by her interactions with other agents that she knew what she was talking about and had our best interests at heart. In this day and age it is rare to find truly good service, so needless to say we really appreciated our time spent with Tammy. Take our advice and put Tammy to work for you, she aims to please and will not let you down! Shelly and Neil Nov 2019
Hi Tammy, I would like to thank you on the sale of my home. You did a very in depth research of the market to price  my house just right. You kept me up to date on all the showings and open houses. All the questions that I had you were always there with the answers that I needed. I will recommend you to anyone that is trying to sell or purchase a home as you done a out standing job and I will not hesitate you use you again. Once again thanks for all your help you done a amazing job. 👍👍👍👍👍 Gord Oct 2019
I was helping my mom with the sale of her home, before I was ready I took in a couple of open houses in the area to get an idea of prices & realtor opinions. I was impressed with Tammy and I followed her recommendations to get the house ready for sale. The house went on the market before Canada day long weekend, we had a sale on day 4. Tammy helped out before & after the sale with a lot of little things that weren't asked or expected of her, excellent energy & lots of good info, Tammy is number 1 in my mind, cheers Tammy awesome job! Jim July 2019
This is a bit late coming but now I'm on Facebook I wanted to say a great big thank you to Tammy Power for direction to stage the house. Even the help you provided when we were out of town to shovel our walkways on the winter days (in your jammies) for us (lol) to checking we had locked the door when we went away..lol. You are superb, on target, full of such positive energy! We absolutely loved working with you 💗 Thanks so much, Patti and Gary June 2019
We just wanted to thank you so very much for getting us through the purchase and sale of our house and condo – we couldn't be happier with how everything has turned out – you were awesome and we really appreciated your attention to all the little details. I've ordered a delivery to be delivered to your office tomorrow afternoon. Thanks again and I'm sure our paths will cross again. Art & Shirley June 2019
Tammy did an amazing job overseeing the sale of our house. We were out of the province and she made sure that everything was taken care of in our absence. My husband and I 100% recommend Tammy! Jennifer & Landon May 2019
I met Tammy many years ago and fell in love with her passion and drive for success. Seeing that she took an interest in Real Estate and was killing it I knew without a doubt we needed… wanted her by our side when starting the next big chapter. It took us a bit to get going trying to narrow down all the stuff in between but she never left us. She was there answering questions and ensuring we didn't miss a step. Tammy even showed us a place twice in one night just to make sure it was "the one".  If you are looking for someone with drive, integrity and warmth reach out to Tammy she will not disappoint. Thank you for absolutely everything Tammy!! Jennifer & Chad January 2019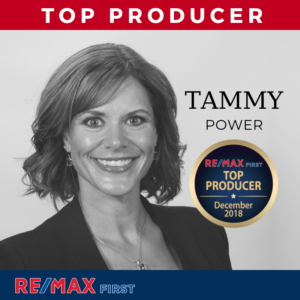 As newcomers to Calgary, Alberta, my husband and I had only one week to find a home. We were referred to Tammy through my nephew/niece and my mom who all had recently purchased their homes with Tammy. We couldn't have chosen or been referred to an Agent like Tammy who is not only professional but she's an Agent who is caring and passionate with her work and she will go lengths to find you exactly what your looking for. With each house that we visited, Tammy got to know us more and what our likes and dislikes were. The end result was fabulous! Tammy not only found our forever home in such a short time,she went above and beyond to make sure all our questions were answered in a timely manner before sealing the deal! Tammy, you stand by your slogan "We Discovered the POWER behind the Name" and for that, AJ and I thank you from the bottom of our hearts for everything you have done for us! Like I said, you have gone above and beyond our expectations! Thank you for your excellent service and for the beautiful gifts. We both wish you continued success! Lisa & AJ xo November 2018
I met Tammy through a co-worker and I referred Tammy on to another co-worker as she really needed some help to sell her home. Tammy was quick to help and was not afraid to put in the time, compassion and totally guidance from start to finish and co-worker home was sold quickly and without any hiccups Tammy even reached out to make sure everything was completed at the other end once co-worker had moved.  I will continue to refer Tammy to anyone who is interested in a super person who needs any realtor needs.  And of course I will use Tammy Power from Re/Max First. Thank you again Tammy for looking after co- worker/Friend she was so happy with all you did for her! Sharon August 2018
Thank You so much Tammy for your exceptional help & hard work handling the purchase of my Mom's Condo in Calgary. You were always available & responded quickly to our many text messages, emails & phone calls. We truly appreciate all your guidance, expertise and outstanding friendly service. If anyone is looking for an outstanding Realtor, we highly recommend Tammy!! Suzanne & Beverly May 2018
After recently dealing with my son on purchasing his property we contacted Tammy as we were going to downsize. Tammy far exceeded our expectations from our initial meeting, getting the property ready for sale, the expected value and then the final closing which took place In less then a week. Great work ethic and a pleasure to have dealt with her.  Jim and Brenda April 2018
I just wanted to pass on how impressed Kevin and I were with this open house experience. We've been to quite a few open houses over the past couple of months and yours was by far the most informative and "Buyer oriented". The sellers are lucky to have such a prepared agent. Dawn & Kevin Dec. 2017
Thank you so much for selling my house in just 11 days we had an offer.  I was previously listed with another agent for 6 months with no results. But all that changed when I met you.  Your professional approach, sound knowledge and great advice paid off!   My wife and I are so pleased.  Best wishes to you Tammy Power.  Jerry Fodor November 2017
My daughter and I scored when we signed with Tammy to purchase our new home.  Tammy is over the top EXTRA in every awesome way.  She definitely puts her heart into her business and the needs and rights of her client before all else. She even continues to represent after the deal is sealed. I wouldn't hesitate to recommend Tammy Power to anyone in need of a realtor. Christie Bruce Nov 2017
 My family and I had the privilege of working with Tammy with the sale of our home and the purchase of our new home.  We were on a tight timeline and she worked extremely hard to get the deal done. She was very responsive to all of our texts/emails and was there to answer any questions/concerns that we had throughout the process.  I would highly recommend her services!  Thank you Tammy!!
Robyn & Jeff Yates November 2017
My boyfriend and I couldn't be happier with our new home thanks to Tammy! As first time home buyers there are many things you don't think about or overlook throughout the buying process but we were in great hands with Tammy. She was very patient with us and because of her real estate knowledge we are now home sweet home. We definitely recommend Tammy to find you your perfect home as well!  Michel Redden & Chris Rogers November 2017
I am so excited to announce I was one of my office's Top Producers in September 2017.  Thank you to my home buyers and sellers for trusting in me to help and guide you through your sale. It continues to be a pleasure to be of service to you and I look forward to staying in touch and helping you or anyone you care about with any Real Estate needs. I promise to take good care of them!
With Love and Gratitude, Tammy. October 2017
I am going to say to you exactly what I just said to Grant which is… I knew when we found you that you would be THE best Realtor choice we could possibly make and you just proved why that statement is true. Thank you for allowing us to be your customers!
Thank you for sending the photos of the previous listing when it was purchased for $290k. The ONLY upgrades that we could see was that they had stained the fence. That's it!
The ad says the following exact words – Beautiful NEWER HARDWOOD and NEWER UPGRADED CARPET in this home lend to its homely feel. OVERSIZED MASTER BEDROOM WITH EN SUITE! WROUGHT IRON RAILINGS! POT LIGHTS! GRANITE COUNTER TOPS THROUGHOUT! DEVELOPED BASEMENT!!
But if you compare the pictures, they didn't change anything. The walls are the same color, the flooring is the same, the tile, bathrooms, etc. Grant says "how is painting the fence justify an $80k increase in attached home?". I have to agree with my husband. I don't think that it is worth that much of an increase.
Serena & Grant August 2017
Tammy is a wonderful real estate agent! She is very thoughtful, patient and hard working. I listed my condo and it was sold within 10 days. The asking price was "right on" and she did everything to make the process painless (even though it can be a stressful time!).
Her energy is contagious and her personality makes her very likable and trusting. I wouldn't hesitate to use Tammy again in the future for a sale or purchase.Melanie Forsyth May 2017
Tammy was an amazing realtor for my husband and I. After deciding to move back to Nova Scotia she sold our town house in less than a month and was always available if we had questions! For anyone looking to list or buy in Calgary I would highly recommend!  Jessica Banks May 2017
Tammy made buying my first home an even more amazing experience.  She was available to answer any questions I had and continually went above and beyond for me.  She made sure I understood, and was comfortable with each step of the process of becoming a home owner.  Her professionalism, kindness and drive made her a pleasure to work with. Anne Feb 2017
Tammy, I would really like to thank you for everything you did for me and my family, including our dog Gracie.  It has been a long time since I have run into a genuine good person.  Have a great holiday. You deserve a break! Shawn Dec 2016
Tammy! Wow! I don't think we can Thank You enough for helping us find a home together. Thank you for being so kind, honest, supportive and accommodating to us in this busy time.  You made this experience so special during this exciting season for us. You truly go above and beyond for your clients and we could not have been more blessed by you (and your husband!!)  You are a blessing! And we are so grateful.
Alex & Azu September 2016
Tammy is one of God's greatest gifts to me. She joined my team of consultants in July, 2000, showing strong leadership abilities and interest in promoting herself.  Within a year Tammy was my first sales manager, with recognition for top sales and recruiting! In both professional and personal realms, Tammy is a dynamic and leading entrepreneur.
Tammy's work ethic and dedication is exemplary.  I knew I could rely on her to deliver a task promptly and with excellence. She is the most organized and diligent person I know.
Tammy's team player mind-set and communication skills enable her to work with people of all ages, background, ethnicity.  Her positive nature and passion to serve others inspires and influences all around her.
Her ability to calm angry or frustrated customers/consultants is unparalleled, and it is because of her excellence in this area that I repeatedly asked her to mentor new consultants at our meetings.
I regularly received unsolicited praise from customers/consultants/managers commending Tammy's outstanding level of service, professionalism and follow-through.
I watched Tammy take a deep interest in the lives of many people.  I remember one time Tammy purchased dozens of roses, individually wrapped them and personally delivered them to deserving women she either met or knew.  That's Tammy's unique way of always making others feel valued and special.
Tammy is also a problem solver. Much thought goes into the things Tammy does, and she has an unusual ability to notice what others overlook.
She is eternally upbeat, passionate about life, savvy in every way and a forever loyal friend/entrepreneur.  Tammy Lewis – Rebel Life Coach
I have known Tammy Power for 17 years.  Our professional careers in human services is what initially brought our lives together but it was her warm, friendly and caring personality that made us quick friends.  Tammy's work ethic has always been outstanding in that she has always gone over and above for the people she supports as well as her fellow coworkers.  It's understandable that these characteristics have also made her a very reliable, dependable and honest friend whom I have always known I could count on during difficult times.
Tammy's positive way of tackling life is something I have grown to value, appreciate and depend on.  If there is a positive side to anything life throws you, and she has taught me that there ALWAYS is, Tammy will SEE IT and make you BELIEVE it!
Some of the qualities that I have come to value and cherish about Tammy both professionally and personal include:
·         She does what she says she will do
·         She talks the talk AND walks the walk
·         Superior communication skills (both written and spoken)
·         Efficient time management and multitasking capabilities
·         A natural way of developing meaningful and powerful relationships
·         Ability to manage timelines, expectations and paperwork deadlines
·         A strong desire to excel in all areas of personal and professional development
·         A keen sense of seeking out the best value
·         Honesty and integrity when carrying out her professional and personal responsibilities
·         The desire to seek out all required information to make informative decisions
·         A kind yet self-confident way in advocating for those she supports
When I heard she was entering the Real Estate profession, I instantly knew that her life experiences, impeccable character, infectious personality and above all her personal morals, values and ethics would serve her future clients well.   I am confident that she will make it her personal AND professional mission in life to help every single one of her home buyers make their "dream house" a reality.  Likewise, I know she will help other home buyers see the beauty and value in any home she is selling.
I wish her all the best as she starts this new and exciting adventure in her life and I trust you will be very pleased with the knowledge, support and services that she will provide to you as you sell or buy a new home.   By Ginger Bowes
Tammy Power is a driven, focused, caring realtor who strives and achieves the best for her clients.
Tammy understands how important her clients' real estate dreams are and she does all that she can to help them reach their goals. In turbulent market times it is important to have someone who can guide you through the process to make it as easy and stress free as possible. By Nina Lafleur
Tammy, you are as rare as they may come. When your mind, heart and soul needs to accomplish something, you get it done! Failure is not a word, you always find ways to problem solve any situation. You give to others more than you ever expect in return. You find the positive in everyone and everything. You are strong, you inspire, you educate yourself, you share, you believe, you care, you adapt, you are willing, you give, you are wonderful! By Jody O'Connell
I don't know the words to express what an incredible person you are! I've never met anyone who just gets it done like you! And your so helpful and thoughtful it's insane! No matter where you go or what you do, my money is on you for being a success! Congratulations on this next endeavour! And remember…the mind doesn't know the difference between excitement and fear.
By Brandy Douglas
Well Tammy, the short version is you brought me back to the land of the living, after surviving the loss of my daughter Kimberly. I left all the friends in my life cause I didn't want to be hurt that deeply again. You stepped into my life and you have never left me. You gave me love and friendship when I needed it the most and you persevered when I kept turning away. You introduced me to the Mary Kay world and my spirit grew even more. You are a blessing in my life and. Inspiration  Thank you from the bottom of my heart.  By Jane Wright
Tammy Power you are one of the most thoughtful, positive and empowering women I know. You take care of your friends and customers and continue to strive for greatness in your life. Good luck with your new adventure!
By the way, you have honesty, integrity, compassion, enthusiasm, dedication and truly are an inspiration to others….all of those attributes will only help make you successful at whatever you choose to do!  By Carmen Fox
You are passionate about everything you do. You do things big…you don't do small. You dedicate yourself 100% to every endeavor. You have integrity. You don't make empty promises. You do what you say you will. You attack each new project with vigor. You are creative. You think outside the box.  By Bernadette Pasteris